A few days ago I turned 62. Not excited to get older, but very excited to be finally be eligible for the National Park and Recreational Area lifetime senior pass (known as the "America the Beautiful - Senior Pass). What a bargain! Only $10 and you have access to all U.S. National Parks and Recreation areas and, in some cases, it also includes a 50% discount on camping, swimming, boat launch, and specialized interpretive services. You read right--Lifetime!
Only living 14 miles from the Olympic National Park and only two miles from the Dungeness Spit Wildlife Refuge, we visit often. Previously, we paid $80 for an annual pass.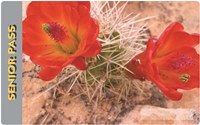 We drove to the visitor center last Sunday and paid $10 cash (must be cash) and showed my driver's license.
This is so great!